Our Coconut Peat is an excellent organic fertilizer and soil conditioner for agricultural crops.
The raw material of the coconut is a proven natural alternative to common peat and has the ability to absorb large amounts of moisture and thus enables excellent root development. Coconut Peat is 100% biodegradable and improves the physical and biological state of the soil.
It reduces the frequency of irrigation, saving time and money, and is therefore used in potting soil mixtures, flower bed mulch, hydroponics, terrarium litter etc. Coconut Peat is free of weeds and seeds and is used worldwide in greenhouses.
Coconut Briquettes are a valuable by-product produced during the extraction of GOTS coconut fibres. The coconut dust is pressed into coconut briquettes of various shapes and sizes.
These have the ability to store large amount of water and thus support plant growth.
Soil quality is also improved by the use of coconut briquettes and another advantage is that they are 100% biodegradable.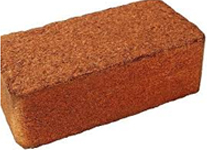 Geotextile Coconut Fibre Net
Coconut Fibre Net or Coconut Geotextile is a completely natural and innovative method to prevent soil erosion and landslides in muddy areas as it improves soil stability. It is used in locations in which the risk of soil erosion or mud slides is relatively high.
Plants and climbing plants should be planted to enhance the effectiveness of the coconut carpet. It is easy to apply in all different locations. This material requires a slightly longer period before it decomposes (about 2 to 5 years) depending on the application. However, the time period will allow enough time for the vegetation to grow. After decomposition, it leaves excellent mulch for vegetation cultivation.
The product is made from twisted yarns and is UV resistant. Geotextile Coconut Fibre Nets are available in different mesh sizes.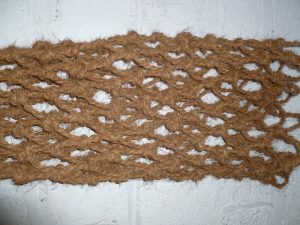 Our Coconut Fibre Mats are produced on our production site in South India from coconut fibre and natural latex. They have an open structure that provides a good microclimate. In addition, they have convenient shock-absorbing properties and are robust yet flexible. Depending on customer requirements, we manufacture Coconut Fibre Mats in different densities and thicknesses specifically for the mattress and upholstered furniture industry.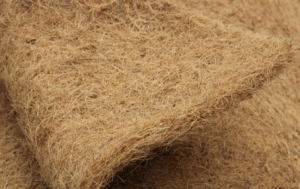 Plant pots made of coconut fibres and natural latex are an excellent alternative to plastic pots as they are biodegradable. These coconut containers can be used as a temporary container for young plants, future replanting or planting. As soon as the plant has sufficiently matured, it can be planted in the ground together with the Coconut Planter. In that way, especially sensitive plants which are difficult to repot can be protected from root damage already from the moment they are planted. As they are biodegradable, they decompose over time and can then serve as natural fertilizer.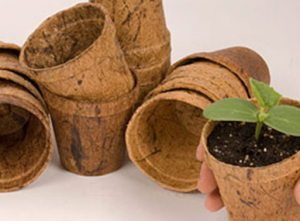 A coconut's husk is the outer layer of the fruit and is composed of long fibres and sponge-like particles. These are chopped into small chips. Many orchids and cut flower growers successfully use Coconut Wood Chips instead of bark mulch as they have discovered the significant advantages in terms of quality and consistency. This material is an excellent organic fertilizer and water storage.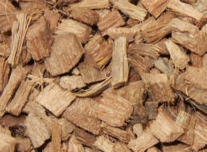 There are three types of coir: bristle fibre, omat fibre and mattress fibre.
These natural fibres are, in an environmentally-friendly way, traditionally obtained from the outer coconut husk, which is still completely covered by the long bristle fibres. These are then cut off and pressed into bales in several stages.
It is also called Twisted Coconut Fibre and is used in the manufacture of mattresses and upholstered furniture, of drainage mats or geotextile materials, filters, but also in the automotive industry.
This eco-friendly fibre is available in different quality versions
Some examples:
Bristle 100% Fiber
100% Omat Fiber
Mattress 100% Fiber
Mixtures of, for example, 50% and 50% OMAT Mattress Fiber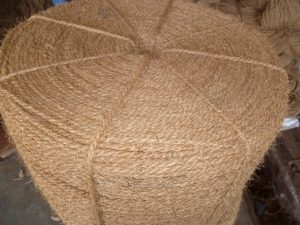 Coconut Fibre Twine, Yarn, Cord for Hop Binding
The Coconut Fibre Twine, Yarn or Cord has different qualities that depend on the type of fibre used, the type of twisting, the diameter, the breaking strength and the use of the product and so on. They are environmentally friendly and easy to compost.
Chopped Fibres are produced by cutting fibres into smaller sizes of 2.5 to 5 cm.
Due to their high moisture and air absorption capacity, they are often mixed with other fibrous materials and are used in pure form or as mixtures in soil remediation and biotechnology – mostly as substrate and also as mulch.
Bristle Fibre is the longest and strongest fibre obtained from the coconut husk. The basic quality of bristle fibres called 1-tie-fibere. Then it can be cleaned with steel combs and be "chopped" to straighten the fibres and to remove shorter fibre pieces. The product is used in brush and broom production as well as for potting soil, production of special filters, etc.

Product description

Packing: ventilation bag
Delivery: per bundle
Colours: white or black
Versions: cut or uncut
Use of the container: 7 tons per 1 x 20 GP
Humidity: Less than 15%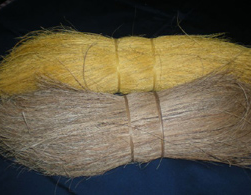 Interested in our products or a cooperation? Please contact us