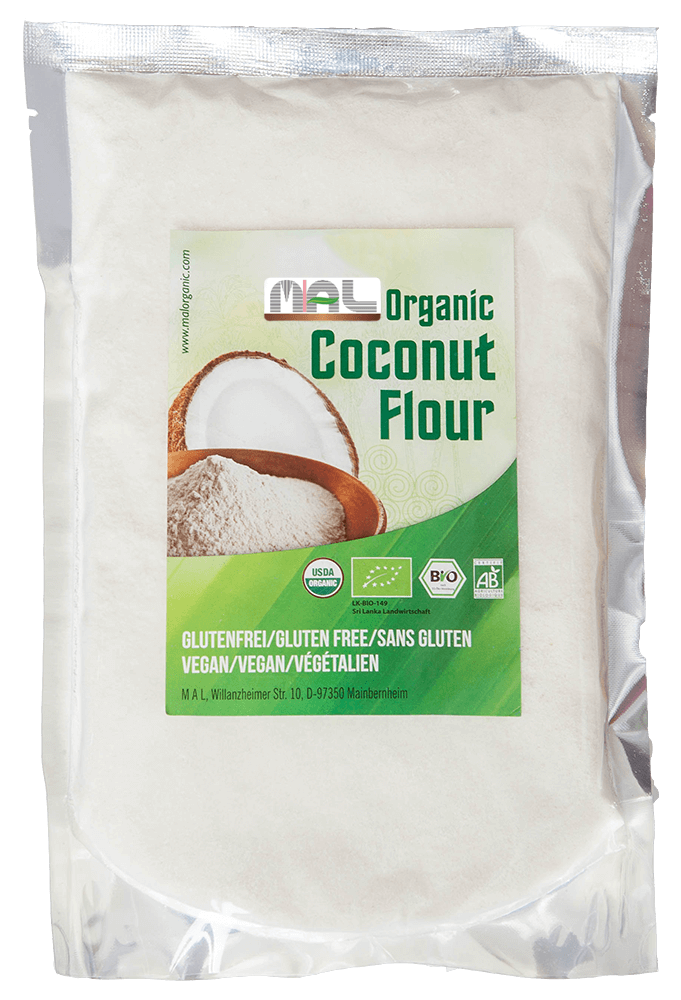 Glutenfree flour

low in calories and fat

high in fibre
Free from lactose and gluten

Muffin Mix Vanilla
Muffin Mix Chocolate
Brownie Mix

Sweetener substitute with low Glycemic Index

high mineral content

100% organic

indispensable in a healthy and balanced cuisine
From Sri Lankan Kithul trees

High in nutrients – low in calories

Glutenfree soy sauce substitute

high in minerals and vitamins, low Glycemic Index
Traditional Sri Lankan Lavaria filling
Made of Desiccated Coconut mixed with Coconut Nectar and Cardamom
Coconut Flour is made from the fibre of coconut meat when most of the oil has been extracted. The fibres are then ground to fine flour. The white powder has a light and fresh scent that makes you dream of exotic beaches. 100 % gluten free, it is used as an alternative to gluten-containing grains such as barley, rye, oat or wheat. Coconut Flour helps the body to utilize important nutrients and is ideal for gluten intolerance.
Since most of the fat is extracted in the manufacturing process (and sold as highly versatile coconut oil), Coconut Flour is low in calories and fat. The remaining fats consist mainly of so-called medium-chained fatty acids or triglycerides that are also found in our Coconut Oil and Creamed Coconut. Medium-chained fatty acids are required for energy production; that is, they are not stored in the form of body fat. They can also measurably stimulate metabolism and protect the body against viruses and fungi.
Our Coconut Flour is completely free of cholesterol and contains very few carbohydrates that affect blood sugar levels . It also helps to reduce body weight and enhance performance. Moreover, Coconut Flour contains all eight essential amino acids and thus contributes to a balanced protein supply. Thanks to its high fibre content, Coconut Flour aids digestion and promotes health of the intestinal mucosa. Fibres help to lower blood lipid levels and blood sugar levels.


In short, Coconut Flour is indispensable for a healthy and tasty cuisine.
Characteristics
Creamy white, very fine particles.
Odour
Natural fresh coconut flavour.
pouches
250 g
500g
1 kg
boxes
10 kg
kraft paper bags
25 kg
Our Organic Baking Mixes are made with Coconut Flour and therefore vegan, free from lactose and gluten and do not contain any traces of nuts. That makes them the perfect product for allergic consumers. We know how difficult it can be to find delicious products suitable for one's diet when being lactose or gluten intolerant. But we also offer a solution: our Organic Baking Mixes. But there is more to it. We guarantee that all ingredients are grown organically and under fair working conditions.

With their tender and fluffy texture and a with their deliciously fresh coconut flavour, they are an asset in every kitchen. And, in addition to that, they are really easily and quickly prepared!
The Organic Baking Mixes are available in three delicious flavours:

Muffin Mix Vanilla
Muffin Mix Chocolate
Brownie Mix

Packing size:
250 g pouches
25 kg kraft paper bags
Our Organic Coconut Syrup is produced from the sap obtained from flower blossoms of the coconut trees and 100% organic.

With its very low Glycemic Index value, Coconut Syrup is a perfect substitute to other sweeteners, in particular for diabetics. It can also show off with its high mineral content: Coconut Syrup contains potassium, zinc, magnesium and iron.
This natural sweetener can replace sugar or other sweeteners in a healthy and balanced diet.
Be it to sweeten coffee, tea or milk shakes or to add it to muesli, desserts or cakes – Organic Coconut Syrup is versatile and fits in well in all dishes.
Packing size:
250 ml jars
You love to try something new and exotic? What about our Organic Coconut Vinegar then?
It is produced from organic coconuts, which makes this vinegar 100% natural. It also does not contain any artificial ingredients.
Whether adding it to a classic salad or spicing up a new creation – this Organic Coconut Vinegar is an asset in every kitchen and always adds a special exotic touch to your dishes. It is also indispensable in a healthy and balanced cuisine, in particular, to support weight loss and boost your immune system.
Packing size:
250 ml bottles
Organic Kithul Syrup is obtained from the Kithul tree found in Sri Lankan forests and produced from the sap extracted from the tree. Compared to cane sugar, Kithul Syrup is lower in calories and higher in nutrients. Moreover, due to its lower Glycemic Index value, it is a suitable sweetener substitute for diabetics. Kithul Syrup offers various health benefits because of its antioxidant content, its minerals and vital acids.
Kithul Syrup is a natural sweetener that can be used for a great variety of dishes: It is indispensable on the breakfast table to put in muesli or yoghurt or to sweeten your tea or coffee. This golden brown delicacy goes perfectly with freshly baked pancakes or in a dessert. It also adds a natural sweetness to all drinks and shakes.

Our Kithul Syrup does not contain any preservatives, colours or artificial flavours.
Packing size:
250 ml jars
For our Organic Coconut Seasoning Sauce –COCOsamico Organic– the sap obtained from coconut trees is stored to mature. The resulting product, coconut vinegar, is perfected with various spices, which makes it a perfect seasoning sauce and a real culinary allrounder.

Whipping up authentic Asian dishes, as dip/topping or for spicing up your salad, soup or sauce – COCOsamico Organic is a versatile element in every kitchen.
Like all products made from coconut sap, COCOsamico Organic is also very high in minerals, amino acids and vitamins. Due to its low GI value, it is perfectly suitable for diabetics and also an ideal alternative for those who seek a healthy, low-sugar diet.

Being produced on coconut basis further makes our COCOsamico an ideal substitute for soy sauce. COCOsamico does not only contain no soya at all, it does also contain less salt than a conventional soy sauce.
Packing size:
250 ml bottles
This sweet spread is made of Organic Desiccated Coconut mixed with Coconut Nectar and Cardamom.
Traditionally, the Pani Pol Spread is used as a filling for the Singhalese delicacy Lavaria. For Lavaria, the Pani Pol Spread is filled into traditional string hoppers,
which then looks like a wrap, but string hoppers are made of pressed rice noodles and the Lavaria is only cooked in hot steam.
Be it for your own Lavaria creations, as a sweet spread on your bread for breakfast or a sweet topping for desserts
– our Pani Pol Spread is versatile and simply delicious.
Interested in our products or a cooperation? Please contact us