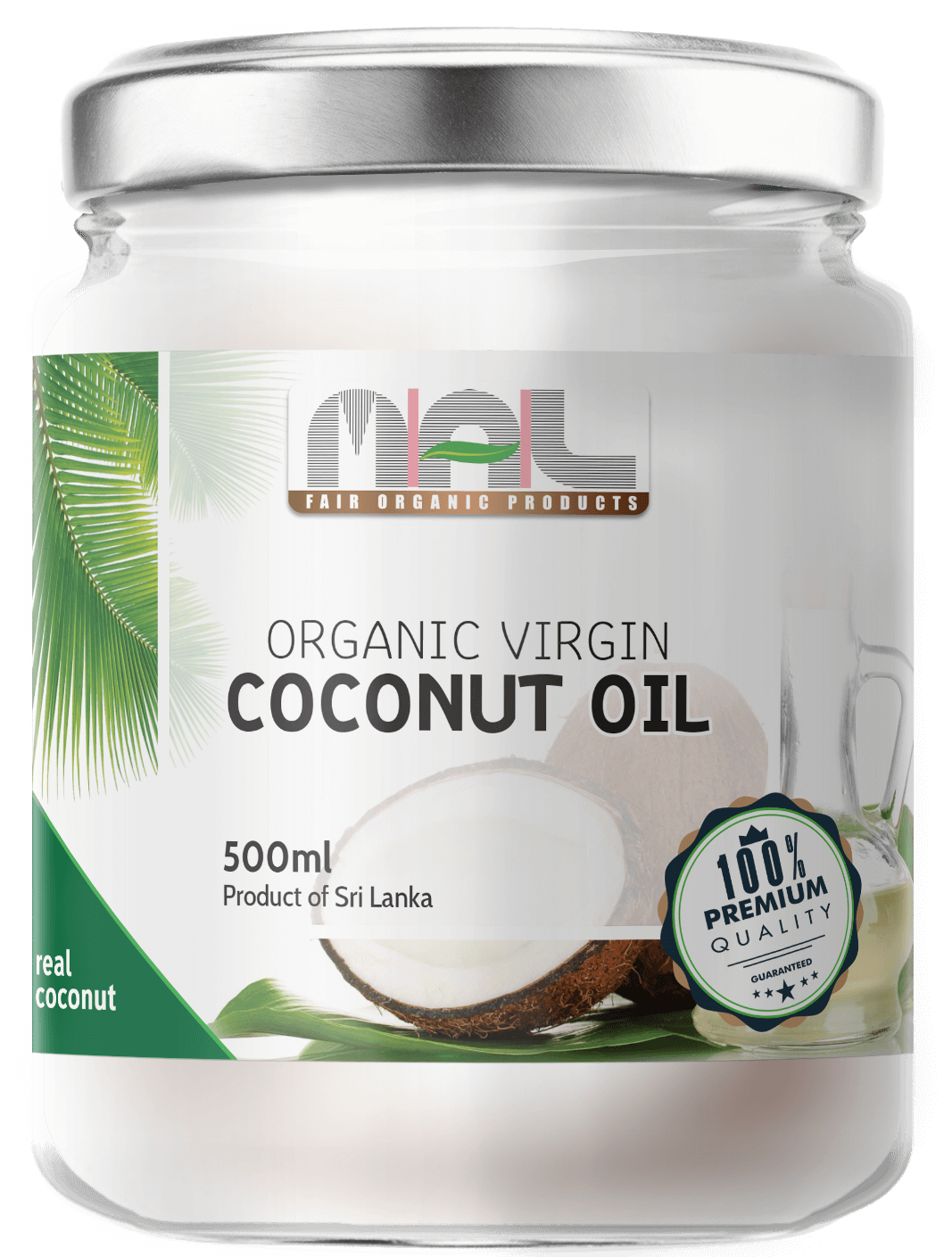 Organic Virgin Coconut Oil
- gentle cold-pressing procedure

- easy on stomach

- 100% organic
FAIRTRADE Organic Coconut Oil Neutral
- high quality

-FAIRTRADE

-100% Organic

- Medium-Chained Triglycerides

- easily digestable

- 100% organic
After harvesting, the ripe and matured organic coconuts are deshelled and split. The coconut fibres are processed further to be used for natural mattresses. The coconut water is carefully collected, pasteurized and packaged for consumption. Coconut oil is then pressed from the white coconut meat.
Characteristics
Solid, white vegetable oil at room temperature (ca. 26°C); liquid oil above room temperature.
Odour
Mild, fresh with a light touch of coconut.
Coconut oil is an all-rounder in every kitchen. Due to its high smoke point coconut oil can be heated without forming unhealthy trans fats. Furthermore, it adds an exquisite and exotic coconut touch to all recipes and can be used in various ways. Be it for cooking or baking, meat dishes or vegetarian creations – coconut oil is versatile and delicious.
Coconut oil has both a cooling and a moisturizing effect on the skin and is therefore used in creams, massage oils, sun and after sun care products. Pure coconut oil acts as a natural mosquito repellent.
Organic Virgin Coconut Oil
For our Virgin Organic Coconut Oil specifically selected white coconut meat is carefully cold-pressed in oil mills in order to preserve the precious ingredients and to produce a high-quality natural product. Organic Virgin Coconut Oil consists of 90% saturated fatty acids, 50% of which is the so-called lauric acid, which has a particularly beneficial effect on human health. Lauric acid is, for example, one of the main components of breast milk; therefore most baby food is produced with coconut oil. Lauric acid supports the absorption of nutrients and promotes a healthy digestion, regulates blood sugar levels and lowers the cholesterol level. Thanks to its antimicrobial effect, it successfully helps to fight infections.
Packing size:
jar
200 g
220 g
350 g
450 g
500 g
1000 g
drum
4 l
20 l
IBC
1000 l
FAIRTRADE Organic Coconut Oil Neutral
The special thing about this oil is that the manufacturing process for neutral coconut oil is combined with the promise that this product meets all requirements of the FAIRTRADE standards.
Packing size:
jar
200 g
220 g
350 g
450 g
500 g
1000 g
drum
4 l
20 l
IBC
1000 l
The abbreviation MCT stands for Medium-Chained Triglycerides, which are the main component of this coconut oil. Unlike oils with a higher proportion of long-chained fatty acids, the human body can digest MCTs more easily, which makes our Organic MCT Coconut Oil the perfect ingredient in a balanced and healthy diet.
Packing size:
250 ml bottle
Interested in our products or a cooperation? Please contact us